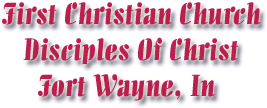 Aid Programs
Food Bank
First Christian Church (Disciples of Christ) operates a food bank as part of the Associated Churches Food Bank system. We serve the area bounded by Rudisill Blvd. on the north, Lafayette St. on the east, Wayne Township line on the south, and the St. Marys River on the west.
Food Bank Hours: Mon., Wed. & Fri. 9:00 - 11:00 am
A Baby's Closet
First Christian Church hosts A Baby's Closet which provides assistance to parents of infants. If you are pregnant or have an infant or toddler under the age of three years you may be eligible to receive children's clothing, furniture (such as cribs, baby gates, strollers) and other material.

For more information, see the brochure.
Baby's Closet Hours: Monday & Wednesday 2:00 pm - 5:00 pm
Thrift & Gift Shop
First Christian Church (Disciples of Christ) has a Thrift & Gift Shop open to the public. Our Thrift & Gift Shop sells high quality used and new merchandise at bargain prices. Our inventory changes often, stop in and you may unexpectedly find just what you need!
Thrift Shop Hours: Mon., Wed. & Fri. 9:00 - 11:00 am
First Christian Church (Disciples of Christ)
4800 S. Calhoun St.
Fort Wayne, IN 46807

260/744-3239